5 Auto Insurance FAQs on Carpooling this School Year
Posted on August 21, 2023 by Active Insurance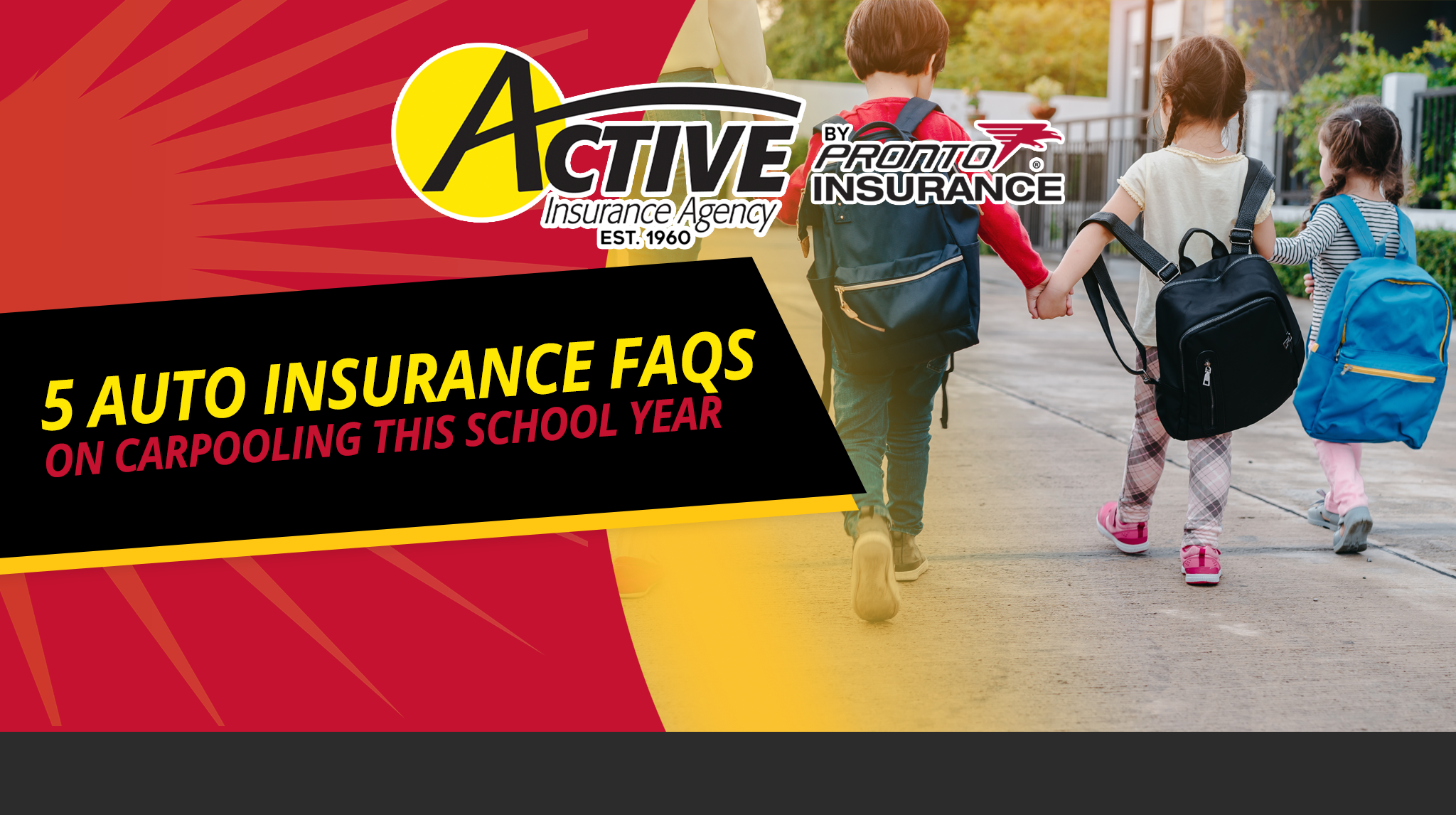 Increased traffic, frequent bus stops, and the need to get kids to class on time can make the back-to-school season hectic and even overwhelming. As you prepare to take your children back to school, consider a carpooling system to make things more efficient.
While this option provides a wide range of benefits, it also raises the question of auto insurance coverage and your responsibilities as a driver. To help you make an informed decision on your system we want to share 5 FAQs with you!
Does Auto Insurance Cover Passengers?
In short, your auto insurance policy can cover passengers in your vehicle. The liability component of your auto insurance may be activated in the event of an accident if medical expenses or other damages are involved.
Does Carpooling Require Additional Coverage?
Your standard auto insurance policy can provide enough coverage for your carpooling needs. With that said, any additional coverage is entirely up to you. We recommend you review your policy to ensure you have the amount of coverage you feel most comfortable with.
Should Carpool Drivers Inform Their Insurance Company?
Your relationship with your car insurance company is all about communication. Being transparent and honest about your carpooling activities helps establish a mutually beneficial relationship with those protecting you if needed.
What if an Accident Occurs During Carpooling?
If an accident is ever to occur, it's your responsibility to inform your auto insurance company and let them spring into action. Follow the routine post-accident procedures: exchange information, document the scene, contact your insurance company, etc.
Carpooling Safety Tips
Safety should be on your mind whenever you hit the road, especially if your passengers are children.
Here are some essential tips to keep in mind when the back-to-school season comes around:
-Seat Belt Usage – ensure all passengers, including children, wear seat belts at all times. Seat belts save lives and significantly reduce the risk of injuries in a crash.
-Child Safety Seats – if you're carpooling with young children, ensure they are appropriately secured in approved child safety seats according to age and size.
-Designate Pick-Up/Drop-Off Locations – establish specific pick-up and drop-off locations to avoid confusion and ensure a smooth carpooling routine.
-Avoid Distractions – as the driver, stay focused on the road and avoid distractions like texting or using a smartphone.
-Create an Emergency Plan – discuss an emergency plan with your carpool passengers, including what to do in unexpected or medical emergencies.
-Be Punctual – stick to the agreed-upon schedule and be punctual to ensure everyone arrives at
their destinations on time.
Let's Explore Your Options
If you're currently planning out a carpooling system and need to make sure your insurance needs are met, Pronto Insurance can help. Our insurance agents can help you determine what coverage best fits your needs. Get in touch with us today to learn more.